Blatner Tools Suite of InDesign Plug-ins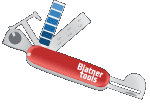 Blatner Tools is a suite of 12 plug-ins for InDesign (versions CS3 to CS6) designed to make your work faster, easier, and more efficient.
You can learn more and download a free fully-functional demo of Blatner Tools here.
Older Software
David Blatner also designed and licensed several other plug-ins, including the InDesignSecrets plug-in from aextra software, the InTips plug-in published by ALAP, and the classic QX-Tools from Extensis.