InDesign for QuarkXPress and PageMaker Users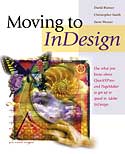 Costs less. Does more. Is easier to use. If this is the conclusion you've reached when comparing InDesign with its two long-time rivals (QuarkXPress and PageMaker), you're ready to make the switch. This guide shows you how! Throughout this compact guide, the focus is on leveraging your skill in QuarkXPress or PageMaker to get up to speed fast in InDesign! As the perfect companion to the more comprehensive Real World InDesign, this tightly focused guide details the most common tasks and techniques you need to know to get your job done in InDesign. Clear, concise instructions enhanced by plenty of screen shots and sample layouts show you how to create and navigate documents, import and style text and objects, manage long projects, work with color, and more.
Click here to buy this book.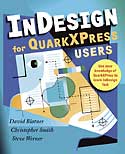 Note that the previous edition of this book was entitled InDesign for QuarkXPress Users.