Real World QuarkXPress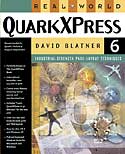 For anyone serious about QuarkXPress, "the Blatner book" is the book to have. It's the highest rated, most comprehensive, and best-selling QuarkXPress book ever published, with over 250,000 sold. Now totally updated and rewritten to cover the long-awaited QuarkXPress version 6, it delves into every new QuarkXPress 6 feature, such as multiple undos, layout spaces, synchronized text, and layers. There's also a "QuarkXPress in 30 Minutes" intro chapter that helps newcomers to XPress get up and running quickly. And there's a new chapter about going online with QuarkXPress that guides readers through how to take their XPress files and get them into multimedia and Web formats, including HTML and Acrobat.
Beginners learn all the basics, from the tools of the trade and document construction to working with text, typography, and graphics. Intermediate to advanced users will find this to be an invaluable resource to the new features of QuarkXPress and will use the book as a trusted reference. Real World QuarkXPress 6 is fully cross-platform, covering both Mac and Windows..
Click here to buy this book.